Vietnam coffee tastes incredible!
There are many traditional styles of coffee brewing, and the Vietnamese coffee filter or maker is going to be one of your favorites now. It's delicate and delicious. No fancy equipment, just a metal filter and a pot.
It's as simple as the French press but with a more filtration style of removing solids from solids. Plus, it only takes 5 minutes to make when you have a good grind and proper control over your water to coffee ratio.
Things to Consider Before Purchasing a Vietnamese Coffee Filter:
It will help if you consider several factors before buying the best Vietnamese coffee filter. Here is a summary of the characteristics:
Coffee Grounds: Your coffee maker should work well with the selection of coffee grounds of your choice.
Material: Coffee phins are usually available in three materials – stainless steel, aluminum, and ceramics. Stainless steel is durable than the others. Aluminum phins have thinner chambers. Ceramic coffee makers are superb aesthetic-wise but super fragile to handle.
Size: Depending upon your use and requirements, select a size accordingly. Small size is perfect for a single serving and so on.
Gravity Insert vs. Screw Insert: Gravity insert is excellent for beginners. The screw insert is incredible for coffee lovers who like to control the strength of their coffee every time.
Purpose: Purchase coffee maker according to the use. Suppose you plan to use it while traveling; look out for portable coffee makers that do not use electricity to work.
For further details, refer to the buying guide below.
Best Vietnamese Coffee Filters in 2023
We have picked the best Vietnamese coffee filters available for purchase on Amazon and Etsy:
1. Vietnamese Coffee Filter Set by Thang Long
Check Price at Amazon
Why do we love it?
The gravity insert is easier to use and is ideal for beginners.
Side plastic handles allow easy handling of the coffee filter.
The package comes with a detailed and helpful instruction manual.
| | |
| --- | --- |
| Pros | Cons |
| ✅Affordable | ❌ The filter is smaller than the container holding the coffee grounds |
| ✅Easy to use | |
| ✅Compact design | |
| ✅Available in several sizes | |
2. XH Vietnamese Coffee Filter
Check Price at Amazon
Why do we love it?
XH Vietnamese coffee filter is environment-friendly. You do not need any additional paper filters with it.
It has the perfect portable and compact size. It brews about one cup of coffee.
The dripping speed can be adjusted according to the user's liking.
| | |
| --- | --- |
| Pros | Cons |
| ✅Durable | ❌ It does not come with an instructional manual |
| ✅High-quality manufacturing material | |
| ✅Works with all kinds of coffee grounds (use a medium-coarse grind) | |
3. Vietnamese Coffee Filter with Free Laser Engraving by toithichcoffee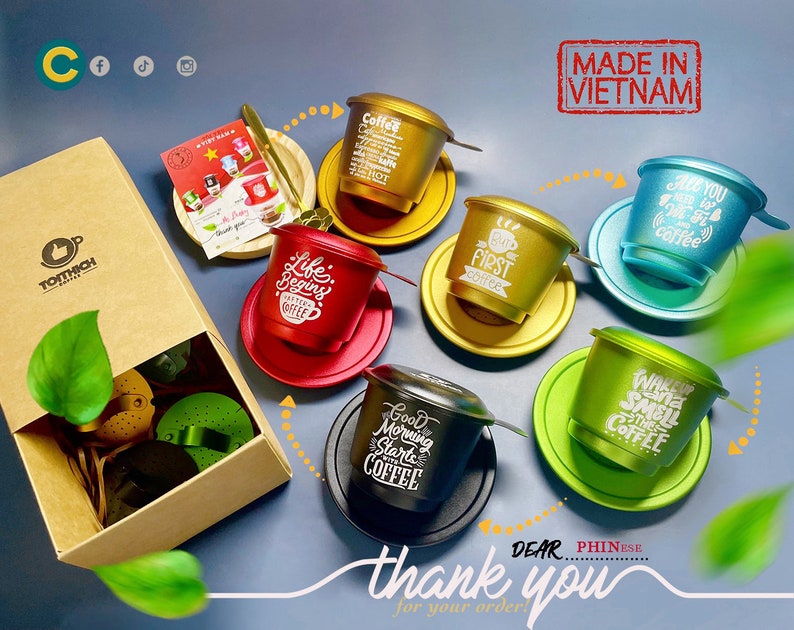 Check Price at Etsy
Why do we love it?
You can get laser engravings on this Vietnamese coffee filter.
These aesthetically pleasing coffee filters make the perfect gift for any occasion.
High-quality aluminum with anodized technology keeps the filter rust-free and corrosion-free.
| | |
| --- | --- |
| Pros | Cons |
| ✅Durable | ❌ Pricey |
| ✅Available in several colors | |
| ✅Great aesthetics | |
| ✅Superb quality | |
4. Gladiator Vietnamese Coffee Maker
Check Price at Amazon
Why do we love it?
Gladiator Vietnamese coffee maker is environment-friendly and dishwasher safe.
It comes with a gravity insert which is ideal to use for beginners.
The coffee maker is easy to handle with the side rubber knobs.
| | |
| --- | --- |
| Pros | Cons |
| ✅Durable | ❌ No tightening slot for screw top |
| ✅Sturdy | |
| ✅Portable | |
| ✅The package includes complete instructions | |
5. Vietnamese Traditional Coffee Phin Filter by Heirloom Coffee
Check Price at Amazon
Why do we love it?
Heavy-duty SAE 316 stainless steel is used to make the coffee filter which gives better protection against rust and corrosion compared to other grade steels.
The gravity insert is ideal for beginners to use.
This 8-ounce coffee maker brews 15 percent more coffee than the usual small 6-ounce coffee maker.
| | |
| --- | --- |
| Pros | Cons |
| ✅Very durable | ❌ Edges do not have a professional finish |
| ✅Easy to clean | |
| ✅Easy to handle | |
6. Nguyen Coffee Supply Phin Filter Collection
Check Price at Amazon
Why do we love it?
Nguyen Coffee Supply is dishwasher-friendly and eco-friendly.
Nguyen coffee filter's slow dripper gives you the perfectly brewed coffee within 5 minutes.
The gravity insert does all the work in serving you your perfectly brewed coffee without a manual.
| | |
| --- | --- |
| Pros | Cons |
| ✅Lightweight | ❌ Leaves some residue in the cup |
| ✅Easy to use | |
| ✅Available in several sizes | |
7. AMT Vietnamese Coffee Maker
Check Price at Amazon
Why do we love it?
AMT Vietnamese Coffee Maker is environment friendly.
It comes with a special filter that works great with all kinds of coffees efficiently.
AMT offers 30 days for the customer to get their product replaced or claim the money-back in case they are not satisfied with the product.
| | |
| --- | --- |
| Pros | Cons |
| ✅Portable | ❌ Drips too fast |
| ✅Phin does not have super sharp edges | |
| ✅Lightweight | |
| ✅Sturdy | |
8. SEN Traditional Vietnamese Coffee Drip
Check Price at Amazon
Why do we love it?
This traditional coffee maker does not make use of paper or plastic and is eco-friendly.
It is made from food-grade stainless steel that ensures it is safe and durable to use.
SEN offers a 90-day money-back guarantee for its customers.
| | |
| --- | --- |
| Pros | Cons |
| ✅Affordable | ❌ It does not have a screw-down plunger |
| ✅Compact | ❌ Holes are fine and clog quickly when using traditional grind |
| ✅Easy to wash | |
Buying Guide
There are numerous coffee filter options available on the internet, and choosing the ideal one is quite a tricky task. Several factors play a role in the purchasing of the best Vietnamese coffee maker.
According to your requirements, you can choose the perfect coffee filter for you. Some of the crucial factors have been listed below to help you specify your requirements.
Coffee Grounds
Choose your coffee filter according to the coffee grounds you would like to brew. Most of the coffee makers usually work well with all kinds of coffee grounds. However, there are some exceptions.
Therefore, make sure the coffee filter you are purchasing works great with different types of coffee grounds. Otherwise, the coffee grounds may seep into your cup or clog the filter, making cleaning a massive mess.
Material
The coffee filters are made using three materials mainly – stainless steel, ceramics, and aluminum. Stainless steel phins are better at retaining heat and are more durable than the other options.
Aluminum phins have thinner chambers and are flimsier compared to stainless steel phins.
Ceramic phins have hand-poked holes which are less consistent than stainless steel counterparts. These do the job well, but a ceramic coffee maker is very fragile.
Size
If you live individually and are looking for a single-serving coffee maker, opt for the smaller size. However, if you find yourself making coffee for a batch of people, it is better to go for a large-sized coffee maker.
Gravity Insert or Screw Insert
Gravity Insert is ideal for beginners since you only need to place the insert over evened-out coffee grounds.
On the other hand, a screw insert is perfect for people who like to control their coffee's strength.
The screw insert keeps the coffee grounds in place. You can tighten or loosen the screw accordingly. A tight screw allows a longer brewing time, consequently, a stronger coffee and vice versa.
Purpose
Coffee makers come with different options. Some require electricity to work while some do not. Choose a coffee maker according to your use. If you plan to purchase a coffee maker for your home or office with access to electricity, you can opt for such coffee filters.
However, if you plan to travel with a coffee maker, you should look for portable coffee makers which do not require electricity to work.
Interested in similar articles? Read on to gain further insights:
How to Make Coffee with a Vietnamese Coffee Maker?
1- Place your ground coffee (medium grind if possible) in the filter body, about 12 grams or 1 large tablespoon bulging
2- Arrange the press on top in a roughly flat and uniform way with a (very) slight settling.
3- Boil water up to about 90 degrees.
4- Place the coffee maker on your glass (preferably transparent to be captivated by the drip, as in Vietnam) and first fill a small amount of water to moisten the coffee, then the rest of the water.
5- Rest the lid on top and wait for 1 to 2 minutes.
All this, of course, to make you a hot coffee.
To make a cold coffee, you only have to hit the coffee in a glass filled with ice, during (ice cubes in the glass) or after extraction!
Interested in similar articles? Read on to gain further insights:
Conclusion
Indeed Vietnam coffees are incredibly delicious. I hope you might have been able to figure out the best Vietnamese coffee filter up till here. Now you do not need to spend your money purchasing a single cup of coffee every single time. You can easily get brewed coffee at home within a very affordable price range.
Happy Purchasing!