I hope you will agree with me when I say,
Sparkling coffee drinks are going to be the next market trend among consumers.
It is impressive to see the coffee industry experimenting and coming up with a diverse range of products. Several brands – Caribou Coffee or Starbucks – have initiated and invested in new coffee trends. We have a range of beverage categories in the market nowadays, such as cold brew, nitro cold brew, espresso tonic, and much more.
Sparkling water and coffee combined are named a sparkling coffee drink, also known as coffee soda. It has an unusual but refreshing taste to it. The flavor versatility provides room for brands to experiment with the taste of the sparkling coffee drink.
Most of the sparkling coffee drinks come to have a citrus-coffee combination. Citrus is used to cut the bitterness of carbonated coffee. Numerous brands in the market like Hilltop, Caribou Coffee, Keepers, Paulig, Movenpick, and Elemenza offer sparkling coffee in the market.
Best Sparkling Coffee in 2023
We have listed the top 6 sparkling coffee drinks in the table below:
1. Elemenza Sparkling Coffee
Why do we love it?
They are produced according to the demand, as fresh as possible.
Organic, high-quality, carefully selected coffee roasters used.
Sparkling coffee is available in original and caramel flavors.
2. Keepers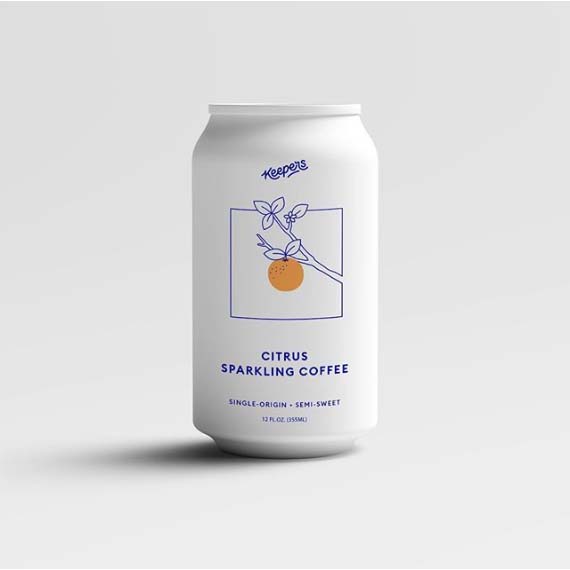 Why do we love it?
It does not have a bitter super-acidic aftertaste.
It comes in two distinct flavors – sparkling black coffee and sparkling citrus coffee.
It has the perfect combination of citrus and coffee to provide you with a balanced Keepers sparkling coffee.
3. Paulig Sparkling Coffee
Why do we love it?
Has a fruity, bubbly, and refreshing taste to it.
It can be used in colorful mocktails and appetizers at parties.
The beverages are Fairtrade accountability certified and manufactured in Finland.
It comes in three different flavors, with lemon flavor achieving a citrus score of 90 out of a total of 100.
4. Matchless
Why do we love it?
The right mix of carbonated coffee.
Matchless produces refreshing flash-chilled coffees.
It is incredibly refreshing and delicious when served with ice and a citrus peel.
Matchless beverages are sold in cans to keep them fresh for a longer time and allow international purchases sales.
5. Upruit
Why do we love it?
Has a refreshing taste to it.
Backcountry lemonade is the flagship drink of Upruit.
It is an energy drink and a carbonated coffee at the same time.
It combines electrolytes and antioxidants to provide you with an exciting drink.
Interested in similar articles? Here's one we think you'd like:
6. Stumptown
Why do we love it?
Comes in a variety of flavors
It is an ideal afternoon beverage with less caffeine than regular cold brew coffees.
Stumptown uses nitrogen to reduce the bitterness in the carbonated coffee soda rather than CO2.
Sparkling Coffee Recipe
The sparkling coffee market has been expanding, and the demand for sparkling coffee soda is increasing every day. You can easily make this beverage at your home by following sparkling water coffee recipes.
Firstly, you need to find excellent quality ingredients to make the best of the sparking coffee soda. You can make use of espresso, cold-brew, or freshly brewed coffee in all your sparkling water coffee recipes. You need to cool it to room temperature and follow the instructions below to make yourself an ideal cup of sparkling coffee.
In addition, you can experiment with your beverage as well. There is no fixed recipe for how to make a sparkling coffee. You can make a sparkling black coffee for yourself or add some flavors to a sparkling cold brew coffee. Moreover, you can enjoy your sparkling lemon coffee with some vanilla ice cream or any syrup of your choice.
Here is how to make a sparkling coffee:
Ingredients
Sparkling water
2/3 cup of ice
3/4 cup coffee or two shots of espresso
One tablespoon of syrup of your choice (Optional)
Steps
Get yourself a glass and add ice to it.
Add sparkling water to the glass until it is almost 2/3 filled.
Pour coffee of your choice.
Add any syrup or ice cream of your choice to get a different and unusual glass of sparkling coffee.
Stir everything lightly and set yourself a perfect sparling coffee table.
Enjoy!
Interested in similar articles? Here's one we think you'd like:
Sparkling Coffee Techniques
If you decide to make yourself a sparkling coffee at your home, you need to read these tips before starting with all the work.
It is important to steep your coffee for the ideal time to achieve a delicious and perfectly balanced coffee. The best time to steep your coffee is around 12-24 hours to achieve all the flavor from the beans. Any time less than 12 hours might not give you the ideal taste, and anything more than 24 hours may leave your coffee tasting bitter.
The best thing is to make yourself the right amount of carbonated coffee every time. Fizzy coffees do not remain fresh when stored. Their flavor turns bitter when stored for long after assembling. This is due to the loss in carbonation of the beverage. However, you can keep the leftover cold brew concentrate that you can use in 1-2 weeks in another drink.
Interested in similar articles? Here's one we think you'd like:
Conclusion
We hope you went through the best sparkling coffee table and read all the reviews we listed for you. Sparkling water and soda are making rounds in the market, though traditional coffee can never be replaced.
Industry leaders match coffee mixing with other flavors like making a cocktail. It is essential to balance all the flavors well to create the best flavored sparkling coffee. There is no harm in having a cup of a sparkling cold brew coffee or a sparkling lemon coffee with a hint of caramel to add sweetness to it. Mix the flavors away and get yourself the best cup of sparkling coffee!